Recipes:
---
Red, White, and Blue Icebox Cake
Ingredients
1 pint heavy cream
1 cup powdered sugar
1 lemon
8 ounces cream cheese, at room temperature
1 (14.4-ounce) package graham crackers
1 pint blueberries
1 pound strawberries, hulled and sliced
Instructions
Place heavy cream and powdered sugar in the bowl of a stand mixer. Mix with whisk attachment until stiff peaks form.
Scrape whipped cream into another bowl and place in refrigerator until ready to use.
Zest and mince lemon peel; then juice half the lemon. (Reserve other half for another use.)
Add cream cheese, zest, and lemon juice to the stand mixer bowl. Beat until smooth with paddle attachment.
Gently fold half of the whipped cream into cream cheese mixture with a spatula.
Fold remaining whipped cream into cream cheese. Set aside.
To assemble cake:
Spread a thin layer of the whipped cream mixture on a platter or in the bottom of a large pan.
Top with 6 graham crackers (lay 4 next to each other - vertical sides touching - and two along the top; see picture).
Cover crackers with layer of the whipped cream mixture.
Top with half of the blueberries.
Cover blueberries with just need enough of the whipped cream mixture to hold the next row of graham crackers in place, then add another layer of crackers.
Top crackers with a layer of the whipped cream mixture.
Cover whipped cream with half of the sliced strawberries.
Spread strawberries with just enough of the whipped cream mixture to hold the next row of graham crackers in place, then add another layer of crackers.
Cover top and sides of cake with remaining whipped cream mixture.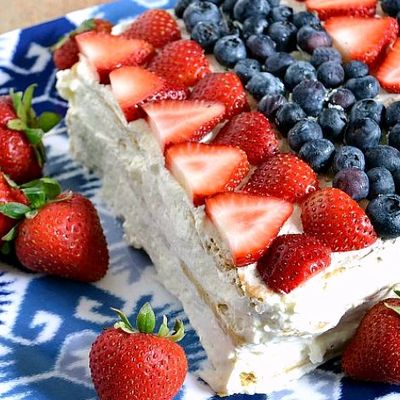 Blueberry Cookies
Ingredients
1 ½ cups flour
1 teaspoon corn starch
¼ teaspoon salt
¾ teaspoons baking powder
½ cup unsalted butter
¾ cup sugar
1 egg
1 teaspoon vanilla
4 oz. white chocolate-chopped into small chunks
¾ cup blueberries
2.5 oz. cream cheese softened
1 Tablespoon powdered sugar
½ teaspoon vanilla
3–4 tablespoons blueberry jam
Instructions
In a small bowl whisk together dry ingredients: flour, corn starch, salt and baking powder, set aside.
Cream butter and sugar on high speed for about 2 minutes, until light and creamy. Add egg and vanilla and mix to combine.
Running your mixer on low, mix in dry ingredients mix.
Fold in about ¾ of white chocolate chunks, reserve remaining to press on top of cookies.
Finally, fold in blueberries with a rubber spatula, but do this really gently and try not to break the berries. The dough will be thick and sticky. Cover and refrigerate for 2 hours.
To make the filling, mix cream cheese, vanilla and powdered sugar just to combine and place in the fridge.
When ready to bake preheat the oven to 350 F and line baking sheets with parchment paper.
To assemble the cookies, scoop one heaping tablespoon of dough and make a deep bowl. Fill with 1 teaspoon of cream cheese mixture and about ¾ teaspoons of blueberry jam. Top with ½ Tablespoon of cookie dough and seal any openings. Roll gently to make a ball. Press a few white chocolate chunks on top and sides of each cookie. Before baking freeze cookie balls for 10 minutes (if you don't have enough space or baking sheet in the freezer, place rolled cookies on a tray lined with parchment paper and freeze, and transfer on baking sheet when ready to bake)
Arrange cookie balls onto baking sheet leaving 3 inches apart, because the cookies will spread while baking. Bake 16-18 minutes. Cool on baking sheet for 10 minutes, then transfer on a rack too cool completely.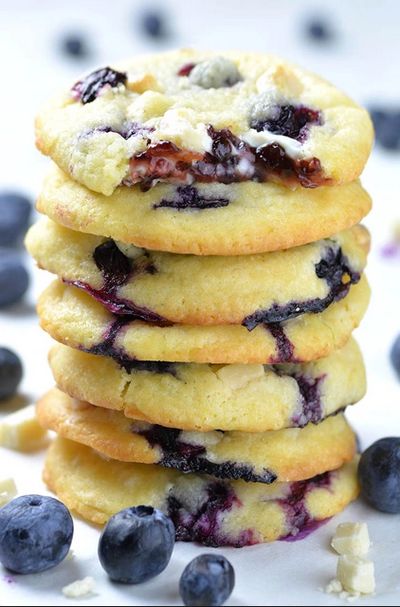 Mixed Berry Pavlova
Ingredients
Meringue Shell
1 1/2

Teaspoons cornstarch

1/4

Tsp. cream of tartar

1

Cup sugar

4

large egg whites
Pinch salt
Vanilla Cream
2

Cups milk

1/2

Cup plus 3 tablespoons sugar, divided

1/3

Cup cornstarch

2

Tablespoons cold unsalted butter

1

Tsp. vanilla extract

2

pinches salt, divided

6

large egg yolks
Topping
1

Package (16 ounces) Driscoll's Strawberries, hulled and cut in half lengthwise

1

Package (6 ounces or 1 1/4 cups) Driscoll's Blackberries

1

Package (6 ounces or 1 1/3 cups) Driscoll's Blueberries

1

Package (6 ounces or 1 1/4 cups) Driscoll's Raspberries
Meringue shell
Preheat oven to 225°F. Line a baking sheet with parchment paper.
Beat egg whites in bowl of an electric mixer with whisk attachment until bubbles form. Add cornstarch, cream of tartar and salt. Continue beating on high speed 2 minutes or until very soft peaks form. Slowly add sugar. Continue beating 2 to 3 minutes or until stiff, shiny peaks form and mixture is no longer grainy. Use a large spoon to transfer meringue to prepared baking sheet. Use back of the spoon to spread the meringue out to a circle 8 to 9-inches across. Leave sides about ½ inch higher than center to hold cream and berries.
Bake in center of oven for 1 hour. Reduce oven temperature to 180°F. Continue cooking 11/2 to 2 hours or until meringue is crisp. Turn off oven, prop open oven door with wooden spoon, and let meringue cool and dry. (The meringue shell can be made 3 days ahead. Wrap tightly in plastic wrap and store at room temperature.)
Vanilla Cream
Place a medium bowl next to stove with a fine-meshed sieve.
Stir together 11/2 cups milk, 1/2 cup sugar and a pinch of salt in a medium saucepan. Heat over medium-high heat until sugar dissolves and liquid is steaming, stirring occasionally.
Whisk cornstarch, remaining 3 tablespoons sugar, and remaining pinch of salt together in a medium bowl. Add remaining 1/2 cup milk and egg yolks and stir until combined. Use a 1/4 cup measuring cup to slowly transfer about half the hot milk mixture into the egg yolk mixture, whisking continuously. Return entire egg yolk mixture to saucepan. Continue to whisk over medium-high heat until the mixture thickens, 10 to 15 minutes. Remove from heat. Add butter and vanilla and whisk until butter melts. Strain mixture through sieve into prepared bowl. Gently press plastic wrap directly onto top of cream to avoid a skin. Refrigerate until chilled, 2 to 3 hours.
Assembly
Peel parchment paper from bottom of meringue shell. Place on serving platter. Spread vanilla cream into shell. Arrange strawberries upright randomly on cream. Arrange the rest of the berries on top of the cream.